Google Domains Dynamic DNS Updater Windows Client
A tiny utility to update your Google Domains Dynamic DNS. Feel free to download and try it. You can minimize the app to system tray and it will keep checking for updates in the background every few minutes defined by you. Works with both IPv4 and IPv6.
Works with Windows 10. Let me know if you find any bugs or have any suggestions.
Choosing between IPv4 or IPv4 for DDNS
Default value of https://domains.google.com/checkip returns the default IP address that the computer is using which could be either IPv6 or IPv4. To force IPv4 or IPv6 use these values:
IPv6 only: https://api64.ipify.org
IPv4 only: https://api.ipify.org

Screenshot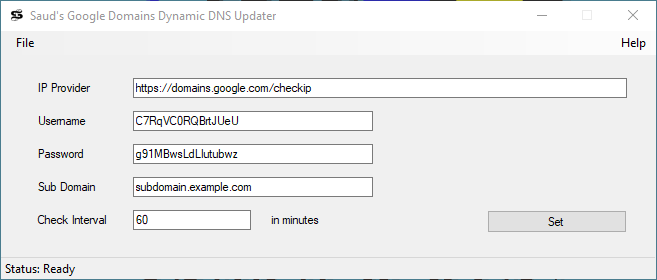 CHANGE LOG
[2019-09-15] Now with an option to specify your own IP address provider.
[2018-08-06] First build.

Download Setup

Requires .Net 4 to run.

On Github

Donate if you like this little software Link